Post by Altaïr47 on Jan 3, 2007 8:25:27 GMT 6
Two Worlds is an RPG that will feel familiar to fans of The Elder Scrolls IV: Oblivion. It is due to release in 2007 for both Xbox 360 and PC.
IGN's preview
xbox360.ign.com/articles/752/752859p1.html
This past year was a bit slow on the role playing game front. While a few heavy hitters came out, the majority of 2006 was a bit on the ho-hum side of things. 2007 is shaping up to be anything but slow and one of the games that will come out of the gates early is Two Worlds. Due out this spring for Xbox 360 and PC, Two Worlds is expected to fill in a bit of the gap that is opening now that people are finally getting their fill of The Elder Scrolls IV: Oblivion. Though a hardware failure prevented us from seeing the game in motion when the powers that be stopped by to give us a sneak peak, we were able to shoot a few questions their way to learn more about this RPG in the making.

The comparisons to the Elder Scrolls series, the definitive open world RPG experience, are inevitable. Like Oblivion, Two Worlds gives players the freedom to choose which type of character they would like to control and how they would like to tackle the numerous quests at hand. Unlike Oblivion, Two Worlds will be playable online with up to eight players. Though it won't be ready for launch, we were told that the game would eventually have support for PC and Xbox 360 users to play together. PC users will be able to create their own maps and quests and then upload them for others to use. When asked about Xbox 360 owners getting access to the PC created maps, we were told that feature is listed under the "maybe with Microsoft approval" column right now.


Though you will be able to go questing online (there won't be any offline co-operative mode) with your friends, there will be a fully realized story mode that you'll have to tackle by yourself. The main quest will give the player choices between good and evil where your decisions shape both your character and the world around you. Rest assured, if you decide to be a nasty little badass, the outcome of the story will reflect that thanks to the multiple possibilities for how the story will end. Along the way, your actions will build a reputation. Complete many quests and you'll become known as a great hero. Commit evil acts and the land will know you as such.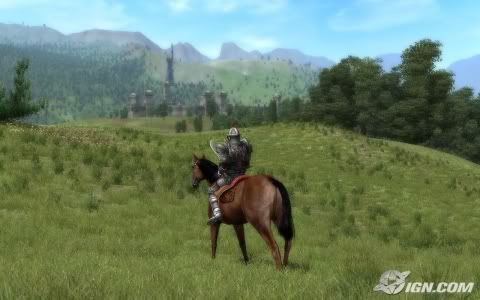 The combat in Two Worlds is all real-time and the camera will pull back to the third person perspective to give you a better view of the action. In classic fantasy game fashion, the fighting will be done via medieval weaponry and magic. Swords, bows, axes, and spells will all be present with what we are told will be a unique upgrade system. Similar to the way card games are played, spells can be mixed by stacking them upon one another. Likewise, weapons can be upgraded and enchanted. Magic in Two Worlds exists in five schools; fire, wind, earth, water, and necromancy. Necromancy, as you might guess, is somewhat of a dark magic that requires players to go on a quest to unlock. We don't know for certain, but it seems that unleashing necromancy on the world might have some devilish consequences. One interesting side note to the spell mixing is that once you create a new spell, you can register it online and name it. If you're the first one to do so, that's the name that will stick in the online world.


Mounts are in and you can expect to hop on a horse (or something more exotic from the lizard family) to travel across the large environment. Fighting can also be done while mounted with some jousting thrown in for good measure.

The Two Worlds engine is all proprietary, so we are in the dark as to how this game will perform until we can get a first-hand look at it. The level of visual detail you can gather from the newest screens. As far as how much you can interact with the environment, we've been told to expect a lot ranging from realistic deformation of grass and snow as the player treads on it to laying traps for enemies and setting off avalanches. We'll have more on how well this all plays out in motion once we've had a chance to see the physics and collision detection in person.